Thu, 24 May 2012
Why I put it on the list:My memory is terrible, I rely on writing things down for most everything.
What I did: I used a combination of phonetic association and temporal association to create absurd comic images in a particular journey through the house, long enough for 100 digits, and then I tested myself with retaining that for a week.
What next: Keep on using my memory. It would be great to memorise the phone numbers in my phone's address book for example.
Why I put it on the list: Driving is really useful. Earlier in my career, I could get away without it, but as I relied more and more on partners and friends who could drive, it was time to sort it out.
What I did: I did a one-week Intensepass course with Rob Watson at UKDrive.net, and I passed first time back in November 2011. Since then, I've done loads of little trips, a few big ones like a big trip to France and back, and I even took the car in for its MOT.
What next: This one seems thoroughly done, although there's always room for improvement. Maybe an advanced course one day, or a track day type affair. Plus, I'm sure I'll end up with a hire car in some foreign country one of these days...
Why I put it on the list: I've always liked learning languages, and the couple of times I interacted with deaf people, it turned out they could sign really well and I just made a fool of myself like a typical hearing person.
What I did: I did an introductory course, but there was a point where I needed to revise and take a test, and the instructor was becoming unwell. In the end, the course never finished. I switched to an introductory Mandarin course at the University instead as I had lots of Chinese colleagues. It was pretty good fun and taught me that I can pick up most things quickly.
What next: I'm a little busy for language learning at the moment. I think I get enough exposure through work trips to various countries.
Wed, 09 May 2012
Today's the end of my Day Zero challenge. Suffice to say, I haven't finished everything. But I don't regret it for a moment. It forced me to do a whole bunch of things that worked out pretty well, and apart from several bouts of extended illness, the things that distracted me from the challenge were all most welcome: moving in with my girlfriend, getting a new job, buying a car, buying a house, all wonderful positive things. Some time soon, I'm sure, I'll go through and update the actual final status of the challenge and muse on the whole thing some more.
Fri, 19 Mar 2010
Well, I finally managed to achieve another of the Day Zero goals. I have been up and about by 06:30 5 days in a row, and it's been a really productive week! Not a lot to show for it, as it's mainly been the moving into a different house, but still. I may try to make 06:30 the standard time to be up at. Maybe.
Tue, 10 Nov 2009
About a week ago, I had a friend visiting and we managed to make a fort. And then we made another fort. Pretty good, really.
Sun, 04 Oct 2009
This is part of the Day Zero challenge. I have to make a piece of art out of household objects all of the same colour. This one is red.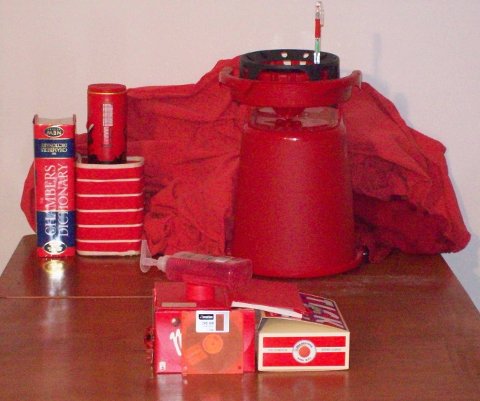 There's also an explanation of what I was trying to portray and the materials used. I reckon it worked out OK. I particularly liked the oven gloves, they gave the impression of windows on a building.
Sun, 06 Sep 2009
Today, my friend Jez came over and we made fresh pasta. We could have done with adding some more salt and gluten, and maybe trying to get things all the same thickness, but it turned out pretty nice and rustic. Definitely would do this one again.
Sat, 05 Sep 2009
So today, I had a little time to myself in town, and I ended up going for a bra fitting at Marks and Spencer. I had to reserve a slot, and then we went to a fitting room where there's a main curtain and then a second curtain inside. This meant that I shuffled between bras without exposing myself to the lovely assistant. I ended up finding that I've had slightly the wrong size of bra for a couple of years now, so I bought a couple of replacements to keep me going for a bit. Moral of the story: getting the right size bra is really easy! Loads of places do bra fittings nowadays, just pop in when you have a moment. Simple!
Fri, 04 Sep 2009
I visited Stockport today. Visited the Hat Works hat museum, had lunch with a good friend at the Swan with Two Necks, took a long walk taking photos and then stopped off in Manchester for some shopping and browsing at Fan Boy Three and Afflecks before wandering home. A very enjoyable trip all round, although my feet are upset that I didn't have my regular walking boots on (I damaged one, so it's in the shop at the moment getting repaired.)